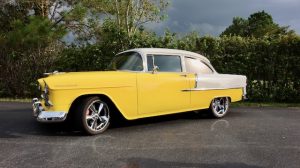 1955 Chevy Resto Mod for Sale: Priced at $75,900
Introducing the extraordinary 1955 Chevy Resto Mod for Sale! This captivating 2-door sedan, beautifully presented by the renowned Florida Rod Shop, boasts a remarkable transformation. Moreover, equipped with a brand new 383 Stroker Engine and a 700R Overdrive Transmission, this classic wonder guarantees a thrilling driving experience like no other.
Furthermore, enhanced suspension and Power Steering provide unparalleled control and maneuverability, making every drive an absolute pleasure. Additionally, with its premium brakes, this Chevy Resto Mod ensures modern stopping power, giving you confidence on the road.
Step inside and immerse yourself in modern comfort and convenience. The Vintage Air system keeps you cool on hot summer days. Plus, the Bluetooth stereo ensures your favorite tunes accompany every journey. Moreover, the captivating Yellow and Pearl white exterior perfectly showcases the remarkable attention to detail put into this classic beauty.
Additionally, the 20″ rear wheels, paired with the distinct Coil Over suspension, give this Chevy Resto Mod an aggressive stance that demands attention wherever it roams. Furthermore, step into the fresh interior, adorned with power bucket seats and convenient cup holders, offering ultimate comfort and convenience.
Under the hood, the meticulously detailed engine bay is a sight to behold, turning heads at every car show or event. As you rev the engine, the pleasant exhaust tone announces your arrival with authority.
Don't miss this amazing opportunity to own a true winner. The 1955 Chevy Resto Mod is not only a stunning automobile; it's also incredibly easy to drive, making it a perfect choice for anyone seeking a classic car with a modern twist. Get ready to enjoy the road like never before!
Contact us for more information on this 1955 Chevy Belair Post Resto Mod for Sale by FRS