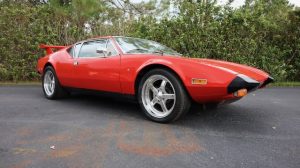 1974 Pantera for Sale: Priced at $89,900.00

SOLD
For sale: an exquisite 1974 Pantera, an incredibly rare specimen with just two owners. Acquired from the original owner in 1980, this beauty has been impeccably preserved. Recently, FRS performed a comprehensive service, updating the electrical system, brake system (including lines), engine, and transaxle with new components and necessary fluids. Consequently, It runs and drives like it just rolled off the line. Only 35,000 miles on the clock! The body remains rust-free, particularly in the typical areas, given its history as a Texas and Florida vehicle throughout its lifespan. Also, the Pantera comes equipped with power steering, brakes, and air conditioning, providing a refreshing and comfortable driving experience even during scorching Florida summers. The vehicle's exterior boasts a distinct custom Front Bumper, Factory Wing, and bespoke wheels, which have been carefully resprayed. Inside, the wood factory dash complements the elegant curtain-style door panels.
The 1974 Pantera is an automotive masterpiece, encapsulating the essence of Italian design and American muscle. Its striking, low-slung profile exudes an air of timeless elegance, while beneath the hood lies a roaring powerhouse. Additionally, the heart of this Pantera is a robust V8 engine, delivering spine-tingling performance and a symphony of exhaust notes. Slide into the plush leather seats, and you'll find a cockpit designed for the discerning driver. Also, the interior seamlessly blends luxury and functionality with a driver-focused dashboard and ergonomic controls. This Pantera is not just a car; it's a work of art, a statement of power, and an embodiment of automotive passion.
For more information, contact us!