FRS Cars for Sale
FRS has three cars for sale. We have the iconic Chevy SST, a classic Pantera, and a rare 1955 Chevy two-door sedan. Each of these cars is unique and sure to turn heads wherever they go, so don't miss out on this opportunity to add an impressive vehicle to your collection! Whether you are new or experienced with classic custom cars, our team of experts can help you find the perfect machine that will make all your friends jealous. Read on to learn more about why each of our cars is special – we know you won't regret it!
1974 Pantera | $89,900

SOLD
The 1974 Pantera, crafted by the Italian design firm De Tomaso, was a mid-engine sports car. Remarkably, it boasted a Ford 351 Cleveland engine, capable of producing up to 266 hp. Beyond its powerful engine, the car's exterior styling was sleek and aggressive. Inside, it provided luxuries like power windows and air conditioning. Additionally, its tubular steel frame imparted an ultra-lightweight feel, ensuring rapid acceleration. Notably, the Pantera excelled in performance, achieving 60 mph in under six seconds and a top speed of 164 mph. Its handling was equally impressive, thanks to an independent suspension set-up and a low center of gravity. Consequently, this highly refined yet potent car swiftly earned iconic status in '70s motoring culture.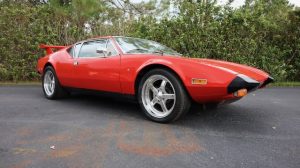 1955 Chevy 2 Door Sedan | $75,900
The 1955 Chevrolet 2-door sedan holds a special place as an iconic car of the 1950s. Notably, its sleek curves, chrome accents, and low profile contributed to its distinct look. Moreover, inside the vehicle, you'll find comfortable seating for five passengers and ample storage space. The suspension was meticulously engineered to offer superior handling, while the brakes proved powerful enough to ensure quick stops. Even today, this classic car garners admiration for its timeless design and impressive performance capabilities. Its iconic style guarantees that it will always be remembered as one of the most popular cars of that era.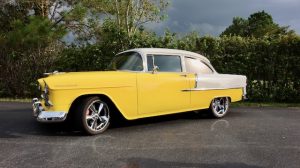 2009 Chevrolet SSR Convertible Truck | $27,995

SOLD
The 2009 Chevrolet SSR Truck is not only a reliable and powerful vehicle but also packed with great features and performance. Moreover, it boasts a maximum towing capacity of 9,700 lbs. and is equipped with a 4.8L V8 engine paired with a 5-speed automatic transmission. Additionally, this vehicle offers the convenience of air conditioning, power windows, mirrors, a CD player, cruise control, and traction control, along with an OnStar communication system and keyless entry for added security. When it comes to handling, it provides excellent performance, thanks to its independent front suspension and stability ensured by the rack-and-pinion steering system. Inside, you'll find a spacious interior with comfortable seating for five passengers. In summary, this truck is an ideal choice for those in need of a reliable workhorse capable of handling heavy loads or providing passenger comfort during long trips.