Interior Restoration
When it comes to choosing an interior restoration shop, there are a few key factors you should definitely have on your radar. You're on the hunt for a shop that not only has a solid track record of crafting custom hot rod interiors, vintage car upholstery, and hot rod seat covers, but also one that prides itself on experience and a top-notch reputation. Quality workmanship, top-grade materials, a wide range of services, crystal-clear communication, and exceptional customer service are all non-negotiables. Oh, and don't forget about the value for your hard-earned money! By considering these juicy factors, you'll be well on your way to finding a hot rod shop that'll revitalize your interior to meet and exceed your wildest dreams!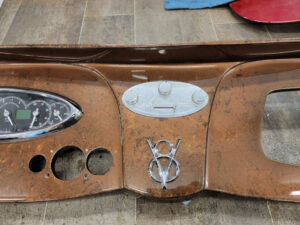 Experience and Reputation of Hot Rod Shops
Find a shop that boasts an impressive track record in interior restoration projects. A trustworthy hot rod haven equipped with expertise in custom hot rod interiors, vintage car upholstery, and snazzy hot rod seat covers. Don't forget to dig into customer reviews and inquire about references to measure their standing in the industry. Rest assured, a seasoned interior restoration shop will dish out invaluable advice on the finest options for your beloved ride. Buckle up for a truly captivating journey!
Quality of Work for Interior Restoration
When it comes to interior restoration, quality is the key! Find a hot rod shop that not only talks the talk but showcases their previous projects with pride. From hot rod dash restoration to custom interiors and luxurious leather upholstery, their workmanship should speak volumes. Don't settle for anything less! Choose a hot rod shop that shares your passion and uses only the finest materials.
Range of Interior Services
Consider a hot rod shop providing a wide range of interior restoration services. Look for a hot rod shop that offers hot rod carpet installation, hot rod console restoration, and custom car audio installation. By offering a range of services, a hot rod shop can handle all aspects of your interior restoration project in one place, saving you time and effort.
Use of Quality Materials Restoration
High-quality materials are essential for any interior restoration project. Look for a hot rod shop that uses top-grade materials for their hot rod seat covers, classic car upholstery, and vintage car upholstery. A hot rod shop that invests in quality materials will ensure that your hot rod's interior looks and functions perfectly for years.
Cost of  Interior Restoration
Accordingly, interior restoration costs can vary greatly, so comparing prices at different shops is essential. Consider the specific interior restoration services you're looking for, such as interior restoration, custom hot rod interiors, and hot rod carpet installation. While a low price may seem attractive, remember that quality workmanship and materials may come at a higher cost.
Communication about and Customer Service
Also, Good communication and customer service are critical when choosing a hot rod shop. Look for a shop that provides regular updates on the progress of your interior restoration project and is responsive to inquiries about hot rod dash restoration, leather upholstery for hot rods, and more. Choose a hot rod shop that values its customers and takes pride in delivering excellent customer service.
Contact Us Today for All Your Restoration Needs